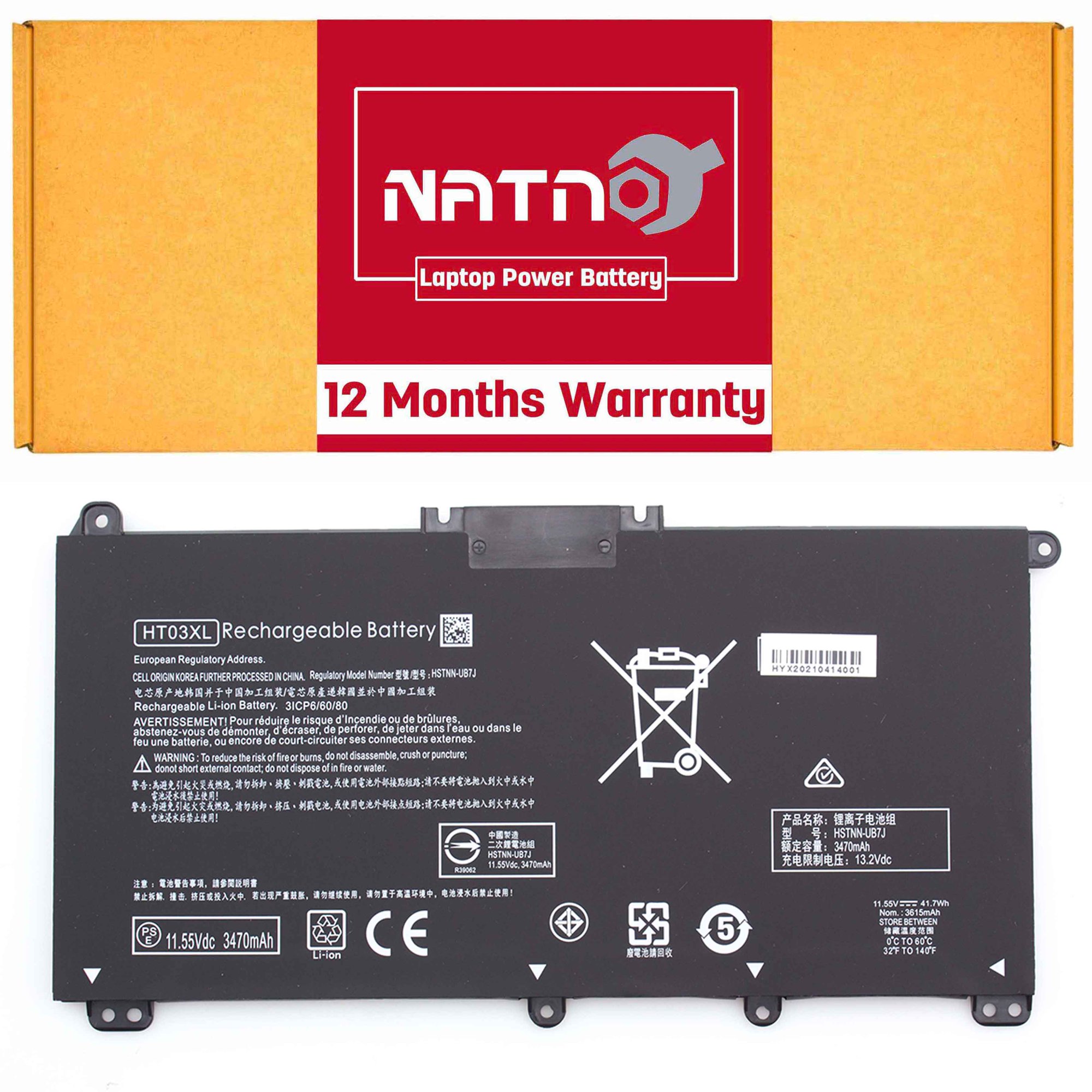 Sale Price $31.99. For This Laptop Battery Replacement. If you are interested in one of these batteries? Just click on the same, or read more and make your purchase.
Please note that we do have many different types of laptop batteries with great deals, that you will love to get.
Product details
**Condition: Brand New Grade A Cell Battery
**Type: Rechargeable Li-Polymer/Li-ion Battery
**Voltage: 11.55V
**Capacity: 41.7Wh/3470mAh
**All NATNO products are Certified by CE, FCC for safety. Strict guidelines for compatibility, and standards compliance for environment safety.
Compatible Part Numbers:
HSTNN-DB8R HSTNN-DB8S HSTNN-IB80 HSTNN-IB8O HSTNN-LB8L HSTNN-LB8M HSTNN-UB7J
HT03041XL HT03XL L11119-855 L11421-1C1 L11421 -1C2 L11421-2C1 L11421-2C2 L11421-2C3
L11421-2D1 L11421-2D2 L11421-421 L11421-422 L11421-423 L11421-542 L11421-544 L11421-545
TPN-C136 TPN-I133 TPN-I134 TPN-Q207 TPN-Q208 TPN-Q209 TPN-Q210
Compatible Model:
HP Pavilion 240 G7 Series
HP Pavilion 245 G7 Series
HP Pavilion 250 G7 Series
HP Pavilion 255 G7 Series
HP Pavilion 340 G5 Series
HP Pavilion 348 G5 Series
HP Pavilion 14-CE0000 Series: 14-CE0020TX 14-CE0025TX 14-CE0027TU 14-CE0028TX 14-CE0029TX 14-CE0030TX 14-CE0034TX 14-CE0068ST 14-CE0064ST 14-CE0006DX
HP Pavilion 14-CF0000 Series: 14-CF0014DX 14-CF1015CL
HP Pavilion 14-CM0000 Series: 14-CM0020NR 14-CM0012NR
HP Pavilion 15-CR0000 Series: 15-CR0087CL 15-CR0052OD 15-CR0055OD 15-CR0037WM 15-CR0051CL 15-CR0091MS 15-CR0010NR
HP Pavilion 15-CS0000 Series: 15-CS2010NR 15-CS025CL 15-CS2073CL 15-CS2079NR 15-CS1063CL 15-CS0072WM 15-CS0051WM 15- CS1065CL
HP Pavilion 15-DA0000 Series: 15-DA0066CL 15-DA0002DX 15-DA0079NR 15-DA1005DX 15-DA0032WM 15-DA0033WM 15-DA0073MS 15-DA0012DX 15-DA0071MS 15-DA0086OD
HP Pavilion 15-DB0000 Series: 15-DB0015DX 15-DB0031NR 15-DB0011DX 15-DB0066WM 15-DB0005DX 15-DB0048NR 15-DB0049NR 15-DB0051OD 15-DB0048CA
HP Pavilion 17-BY0000 Series: 17-BY1053DX 17-BY1033DX 17-BY0060NR 17-BY0021DX 17-BY0053CL 17-BY0021CY 17-BY1055CL 17-BY0089CL 17-BY1071CL
Compatible Model: HP Pavilion 240 G7 245 G7 250 G7 255 G7 Series HP 14-CE 14-CF 15-CS 15-DA 15-DB 17-BY Series
Built-in circuit protection ensures both safety and stability. Overcharging and Discharging Circuit Protection.
All NATNO products are Certified by CE, FCC for safety. Strict guidelines for compatibility, and standards compliance for environment safety.
12 Months Replacement Exchange: If you are not satisfied with our product for any reason, just let us know. We are willing to refund or make replacement.
Laptop Battery Replacement
Summary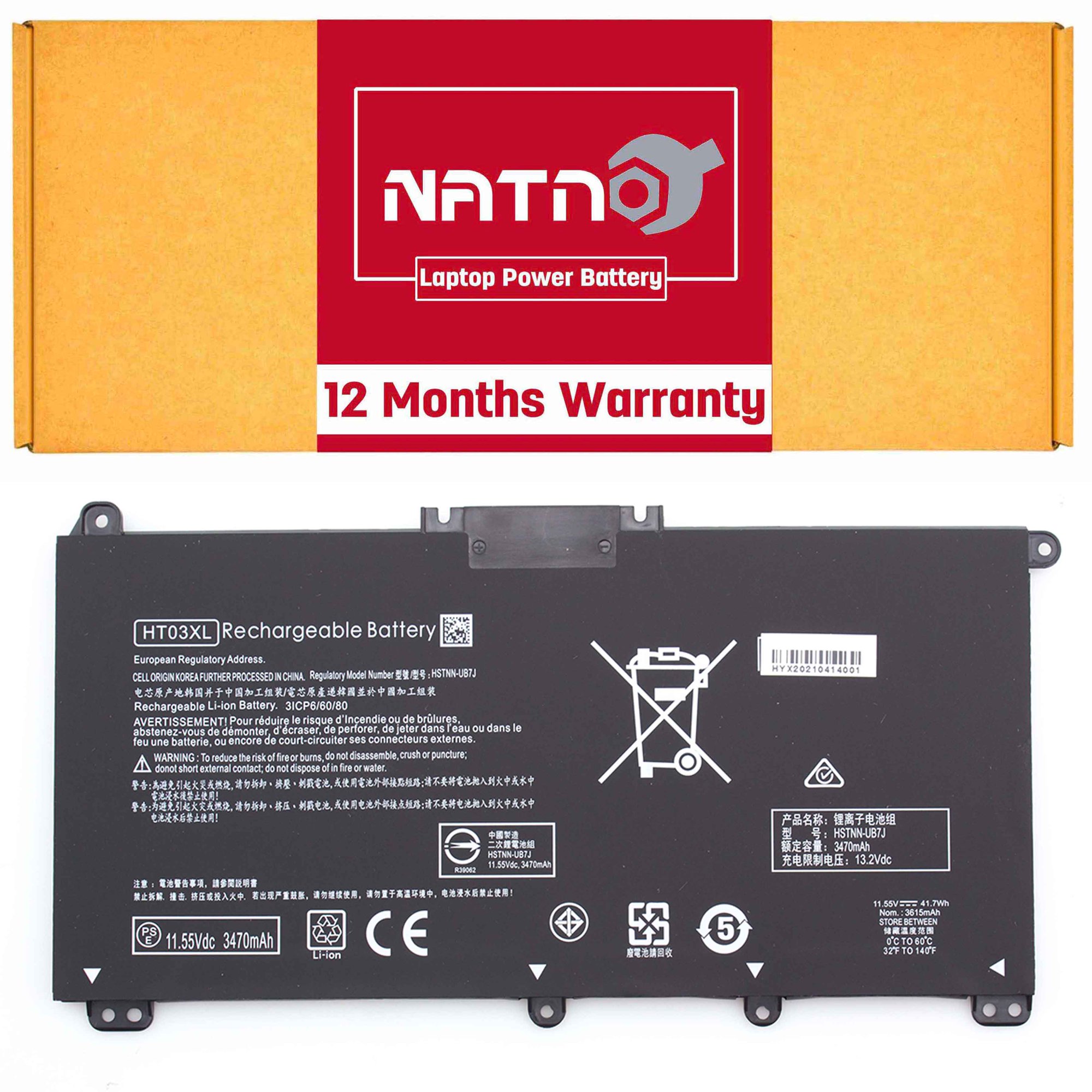 Product Name
Laptop Battery Replacement