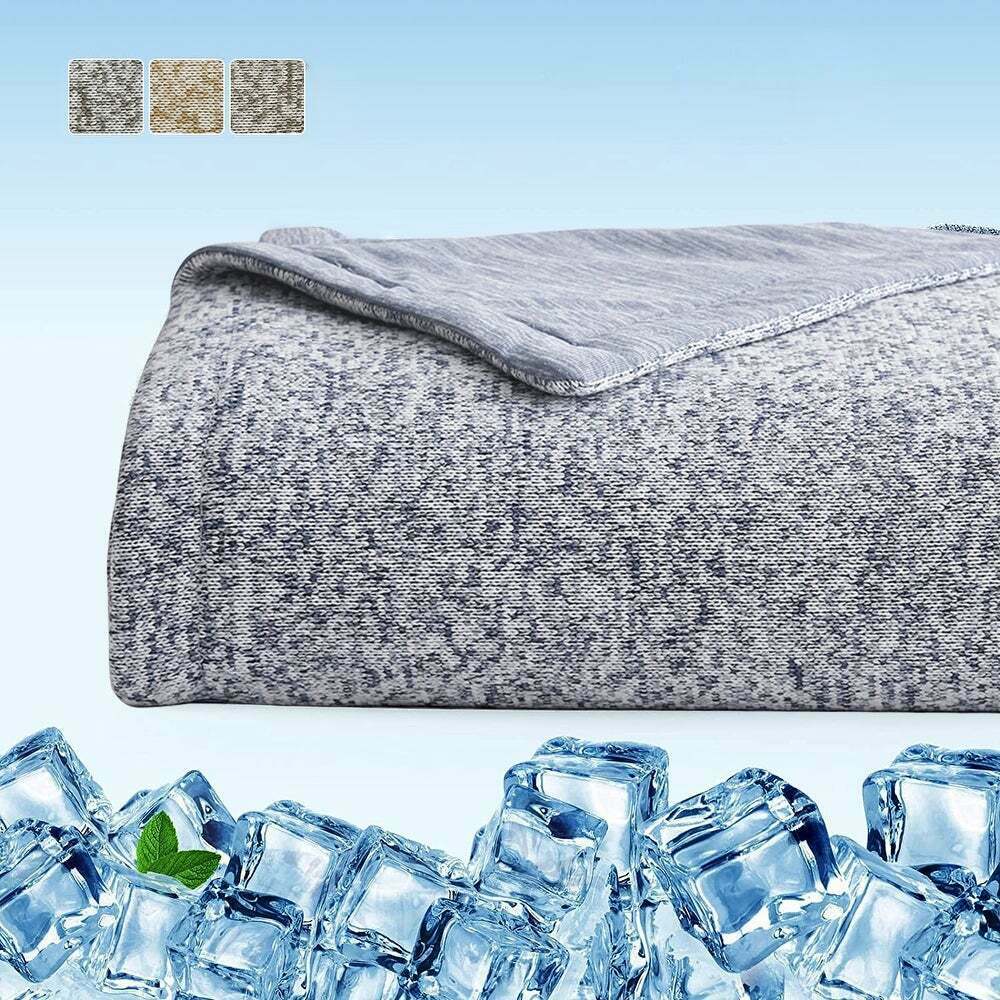 Cooling Blankets Summer Blanket Absorbs Body Heat for Hot Sleepers.
Cooling Blanket/Cool Pillowcase Summer Fiber Cooler Blanket Set for Sleeping.
Please note that we have many different types of cooling blankets, here for you, as follows, king, queen and twin size with pillows.
Features:
QuadCHILL SENSATION: With recent breakthrough in our revolutionary QuadChill technology, we combine NanoKool fabric with improved moisture wicking, active heat transfer and increased Air-Flow to bring you a good night sleep with instant and non-stop cooling sensation.
NanoKool FABRIC: Utilizing years of experience in developing nano fabric, we are proud to introduce you to the NanoKool fabric. The advanced material we use for the throw blanket will actively transfer excessive heat from your body to keep you cool and dry throughout your sleep. The 0.4+ Q-Max score enables instant cooling effect when the fabric meet your skin.
MICRO-KNITTING: Knitting is cool and breathable by nature, and our innovative Micro-Knitting technology brings knitting to a whole new level. The application of Micro-Knitting creates a fabric that is soft, durable, flexible, expandable and wrinkle resistant. The 0 RET rating (Resistance to Evaporating Heat Transfer) allow heat and mositure evaporate into the air as soon as your body produce it.
NoTear ADVANCE STITCHING: Both sides of JML cooling blanket are tightly quilted on the edge with invisible high strength thread line and reinforced with another line of tightly quilted thread near the edge. We design the blanket with every detail in the mind so you can enjoy the durable dual-side cooling blanket for years to come.
DESIGNED IN THE GOLDEN STATE: JML is based in Los Angles with over 30 years of solid production techniques. From the bustling streets of Hollywood to the layback beaches of Malibu, our team draw inspiration from every element SoCal has to offer to come up with the best product in the market. Our LA based team provides exceptional customer services and is committed to your satisfaction. If you are not satisfied with the cooling blanket, please contact us with no hesitation!
Summary