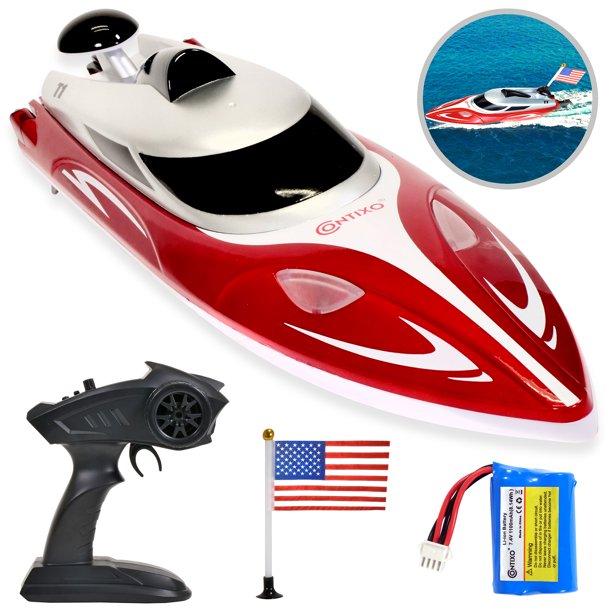 FORSALE. GREAT DEALS THAT YOU WILL LOVE TO GET. Contixo 13.5″ Plastic T1 Red Battery RC Boat. IF YOU ARE INTERESTED IN THIS BOAT. JUST CLICK ON THE SAME, OR ON READ MORE AND MAKE YOUR PURCHASE.
Product details
The Contixo T1 Racing Speed Boat offers the best racing action for outdoor recreational fun. Kids will enjoy the fast-speed RC boat racing in the summer and winter break and any day they
want. It is good for both adults and kids, all ages will like the boat. Compared to other competitors, our T1 speedboat is made of more quality components and detailed craftsmanship. This is the best Black Friday, Cyber Monday, Christmas, Thanksgiving, or Birthday Gifts for kids.
Enjoy the Speed – Experience the adrenaline rush of racing over 20 MPH. Have fun with the new Contixo T1 Racing Speedboat racing over ripples, waves, beaches, lakes, rivers, swimming pool and more.
Remote/Radio Controlled – With the 2.4 GHz wireless transmission technology, you are able to race the boat with a range 120 meters.
Capsize Recovery and Double Hatch – Remote controlled boat features easy controls, a double-hatch hull, and capsize recovery modes that make this a great RC speedboat for kids or adults at any experience level.
Quality and Components – Contixo uses the best quality components to manufacture this RC Racing Sports Speedboat. This ensures longer-lasting performance than our competitors. Our attention to detail and craftsmanship also sets up apart.
The Perfect RC Boats for Kids and Adults: The velocity high-speed RC boat is one of the hardest and fastest freshwater remote control boats for kids and adults. NOT for saltwater use.
HIGH SPEED REMOTE CONTROLLED BOAT: The Contixo T1 RC toy boat for adults and kids races across water at 15+ mph; this high speed boat includes a 4-channel remote with a 150-180 meter (Up to 590 ft.) signal range
RC BOAT FOR ADULTS AND KIDS: This remote controlled boat features easy controls, a double-hatch body for control over waves, capsize recovery mode to turn the boat upright if flipped, a water cooled engine that keeps the engine cool, and high capacity battery for longer run tim
DURABLE FRESHWATER BOATS: Race these durable remote control boats in rivers and lakes with low surface-debris or outdoor/indoor pools with liners; these boats are NOT for saltwater use
RECHARGEABLE RC BOAT: 13.75" Remote control speedboat; (1) rechargeable 7.4v 1100mAh Lithium Ion – battery, dry-dock stand, Single Propeller. Charge time 2 hours for 20 min play per battery. for 14 and up
ADVANCED REMOTE CONTROL: Smart 2.4 GHZ remote control shows signal/power/trim adjustment/Left-Right throttle switch mode, emergency stop function, and low signal warning to avoid the boat going out of range
Summary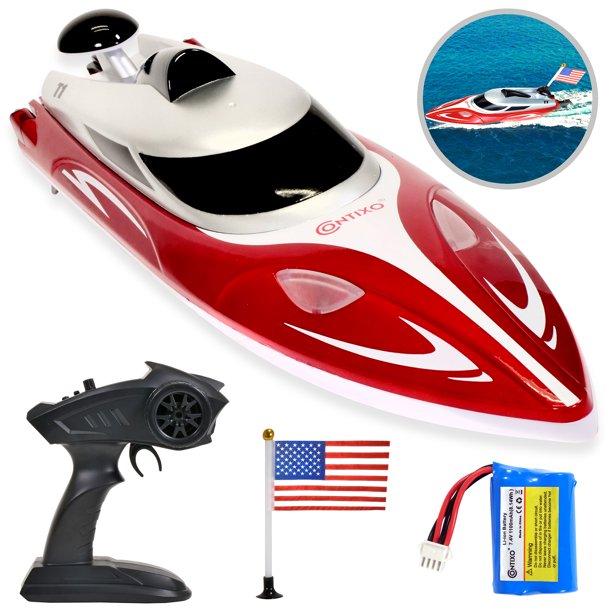 Product Name
Remote Control Red Battery RC Boat