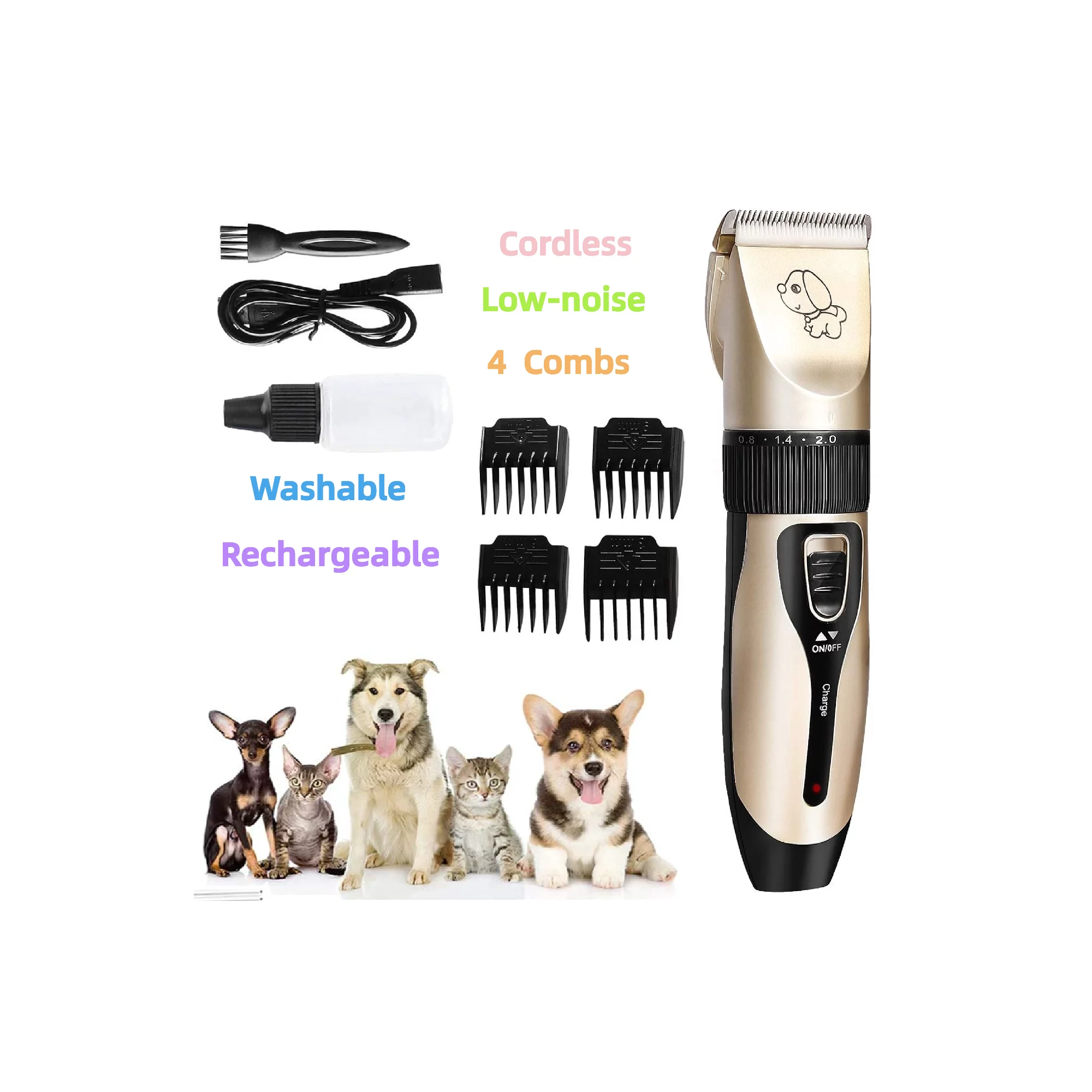 Grooming Kit For Pets. Sale Price $15.79 For this Mute Dog Clippers, Cat Hair Trimmer Cordless Pet Clippers, Grooming Clippers for Dogs Cats Horses.
If you are interested in this trimmer kit? Just click on the same or on read more and make your purchase, we do have many different types of trimmer, with great deals.
Product details
JINJIU Mute Cordless Electric Clippers for Pet
Why Do You Choose Our Electric Clippers ?
This premium pet grooming clipper is an ergonomic, powerful and easy to use pet grooming tool.
This Rechargeable Electric Clippers are recommended by trainers, veterinarians, it suitable for small, medium, large dogs and cats.
This clipper is far superior to other clippers and light in weight which makes the clipper suit for the user's hand with the slip-resistant coating.
This clipper has far less vibrations than other models which wouldn't scare your pet. A good clipper will make your pets feel comfortable, relax and enjoy their grooming time.
It takes you less time to grooming clipper as this cutting tool cuts very efficiently and doesn't clog up. The hair falls freely from the clipper and allows you to focus on cutting hair instead of constantly removing hair from the cutting machine. It's suitable for both long and short hair for dogs, cats, horses and many other animals with hair.
Instructions:
Disassemble the Cutter:
First step: Use your thumb to press the blade head and moving the white blade from right to left, then push the whole blade to disassemble the cutter.
Second step: To avoid the dropping of cutter, use the other hand to hold it.
Assemble the Cutter:
First step: Fine-tune the adjusting ring to 2.0mm before assembling the cutter.
Second step: Align and insert the cutter into the clipper slot.
Third step:Press down the cutter until the 'click sound' is heard
Specifications:
Size: 7.2 x 2 x 2 inch
weight: 0.8 lb
Voltage: 5V DC (USB)
Color: Gold
Use: Pet Grooming
★ PRODUCT DESCRIPTION: This premium pet grooming clipper is an ergonomic, powerful and easy to use pet grooming tool with 3 adjustable blades and 4 different pitch combs, upgraded stainless steel fixed blades and ceramic moving blades available Excellent cutting performance, long enough blade for use, detachable blade, easy to replace and clean.
★ USB INTERFACE: Don't worry about no power during use. You can use USB interface to connect other charging plugs, which is more convenient and faster than other pet razors.
★ ULTRA-QUIET: Pet Grooming Clipper with Precision motor, low vibration and ultra quiet design, Working noise lower than 50 DB, to help the pet feel at ease, not afraid haircut any more.
★ 4 GUARD COMBS:(3mm/6mm/9mm/12mm). The adjustable clipping comb is applicable for clipping hair of different lengths; and the detachable guide combs make for quick, easy comb changes and increased versatility.
★ Please Note: if your pets get long and thick hair, you need to use scissors cut shorter at first, otherwise the clippers may jam up and don't work properly.
Grooming Kit For Pets
Summary