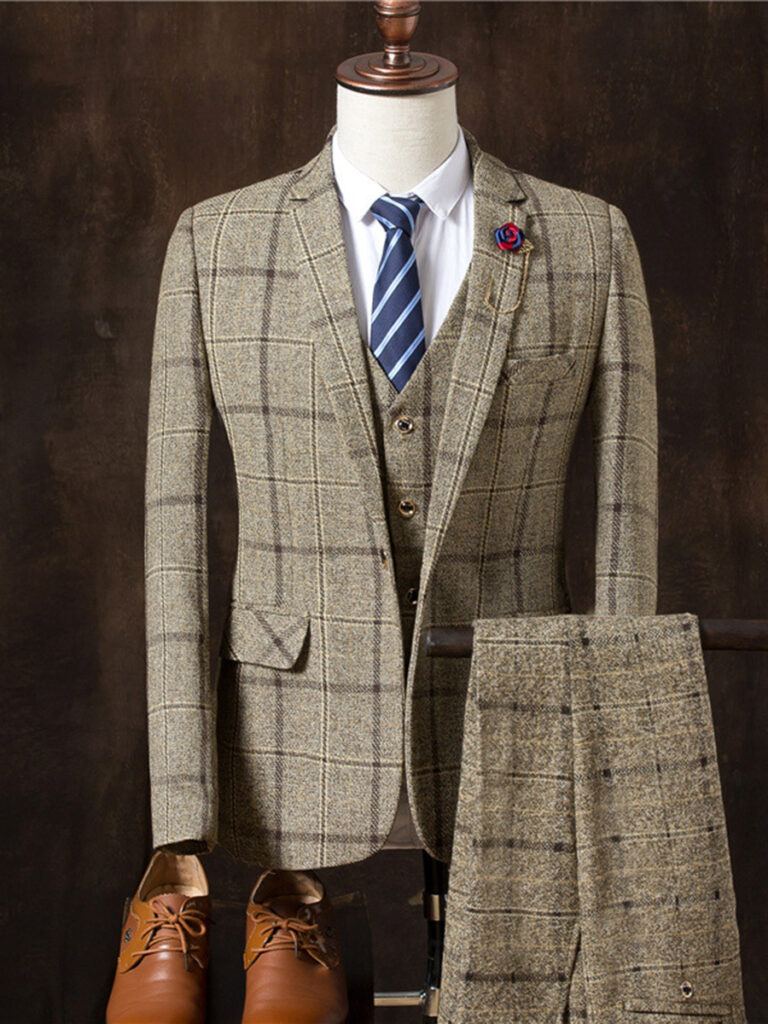 Men's Designer Suits For Sale. Sale Price $161.52 For this Three Pieces Sanding Plaid Collar Slim Fit Casual Men's Dress Suit.
But we do have many more, different types of men's suits, with great deals that you will love.
If you are interested in anyone of these suits? Just click on the same, or on read more and make your purchase.
Description
Set Type: Blazer, Pants,Vest
Blazer Length: Standard
Sleeve Length: Long Sleeve
Pants Length: Full Length
Blazer Closure: One Button
Pattern: Plaid
Embellishment: Patchwork, Button
Season: Fall
Men's Designer Suits For Sale
Size
Coat Length
Coat Bust
Coat Shoulder
Coat Waist
Coat Sleeve Length
Vest Length
Vest Bust
Vest Shoulder
Vest Waist
Pant Length
Pant Waist
Pant Hips
Pant Thigh Width
Pant Leg Opening
cm
inch
cm
inch
cm
inch
cm
inch
cm
inch
cm
inch
cm
inch
cm
inch
cm
inch
cm
inch
cm
inch
cm
inch
cm
inch
cm
inch
M
66
26.0
92
36.2
43
16.9
84
33.1
60
23.6
56
22.0
88
34.6
32
12.6
84
33.1
103
40.6
73
28.7
93
36.6
55
21.7
35
13.8
L
68
26.8
96
37.8
44
17.3
88
34.6
61
24.0
57
22.4
94
37.0
33
13.0
88
34.6
104
40.9
77
30.3
96
37.8
57
22.4
35
13.8
XL
70
27.6
100
39.4
45
17.7
92
36.2
62
24.4
58
22.8
96
37.8
34
13.4
92
36.2
104
40.9
83
32.7
102
40.2
59
23.2
36
14.2
2XL
72
28.3
104
40.9
46
18.1
96
37.8
63
24.8
59
23.2
100
39.4
35
13.8
96
37.8
105
41.3
90
35.4
108
42.5
63
24.8
38
15.0
3XL
74
29.1
108
42.5
47
18.5
100
39.4
64
25.2
60
23.6
104
40.9
36
14.2
100
39.4
107
42.1
96
37.8
114
44.9
66
26.0
39
15.4